Rocky's Recreational Activities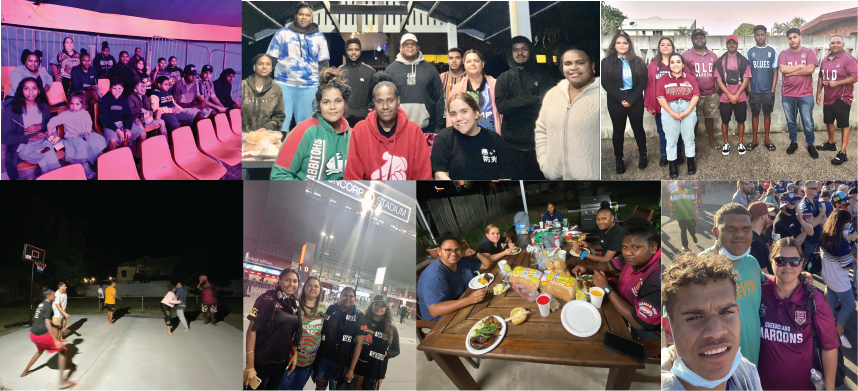 Over the past few months our IYMP Rockhampton participants have held some deadly recreational activities and are making the most of the NRL's relocation to Queensland.
IYMP Rockhampton staff and participants were excited to learn that Game 1 of State of Origin was moved to Townsville's Qld Country Bank Stadium. IYMP secured 10 tickets with a mix of QLD and NSW supporters, very eager to see their favourite NRL players playing right in front of them.
Our IYMP Rockhampton coordinator Norma along with her participants, also made the trip to Brisbane last month and attended the thriller game of Round 23 at Suncorp Stadium watching South Sydney Rabbitohs take on the Penrith Panthers. The Rocky site were also excited to find out that the NRL would be hosting the NQ Cowboys and the Saint George Illawarra Dragons for the Round 24 match on their home turf at Browne Park.
Apart from watching footy the IYMP Rocky participants were lucky enough to attend the Lennon Bros Circus when they visited Rocky which was a new and exciting experience for many. The ladies also had the opportunity to have an outing at Funzone, leaving the fellas at home at home to watch the footy. The ladies made the most of their night out winning enough tickets to take home prizes as well.
At the beginning of this month our Rocky participants from both accommodations came together for their Wednesday night combined dinner and rec activity. Our Residential Worker Uncle Jason and Jared cooked up a deadly BBQ feed before they hit the cement court for a 3 vs 3 basketball game (it was super intense and went on for over an hour).
It's great to see our IYMP Rockhampton site so active and making the most of their opportunity to get out and have some fun!