Nia smashes another goal and joins the team at IYMP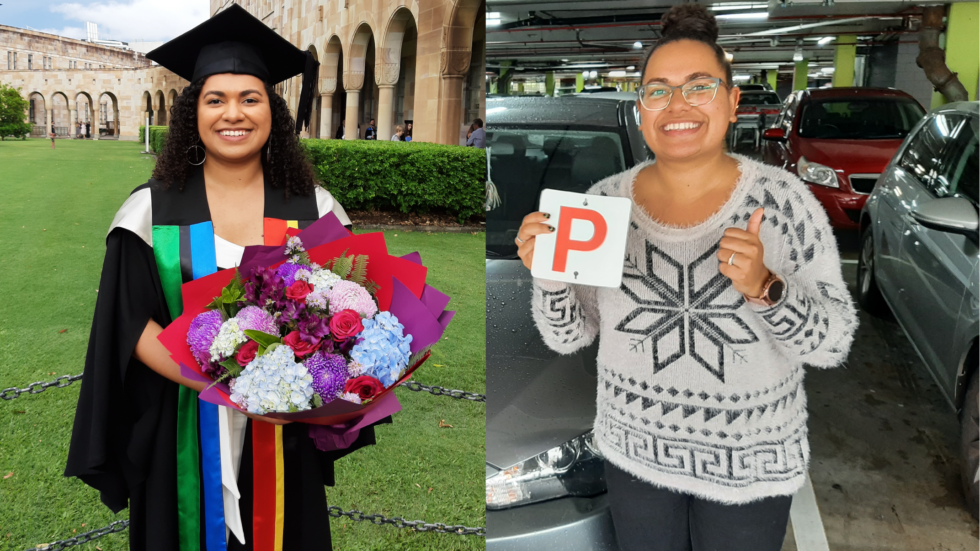 Meet our deadly IYMP Brisbane Staff member and recent participant Nia Seden who has smashed another goal successfully completing her Provisional Driving Test in Brisbane. Nia began her IYMP journey in Brisbane back in 2018 in her third year of a Bachelor of Business Management.
After successfully graduating from Cairns State High School in 2014, Nia decided to pursue a degree in Business Management and join her sister studying at the University of Queensland. During her first year of university, Nia struggled with her studies while adjusting to university life being a long way from home and the support of family. However, Nia refused to quit and go home, and in her fourth year of her studies Nia joined IYMP. Nia heard about the project through her fiancé Lachlan, who IYMP had significantly supported through many of his academic, emotional, and financial hardships throughout his own University journey.
As of December 2019, Nia successfully graduated with a Bachelor of Business Management, majoring in Human Resources, and Nia is now working as a Project Officer in our IYMP head office at Brisbane. As a Project Officer, Nia looks after the administration for IYMP around the country, amongst the many demands of her role. The teams at head office and IYMP Brisbane love having Nia as a part of the team and look forward to watching her to continue to grow in this field of work. Nia has been incredibly successful in her studies and her work and was able to complete her driving hours with the support of IYMP and Omega Driving School.
"Getting my driver's license was also another goal of mine, however, I found it quite difficult to achieve this goal as I had no available supervisors to help me learn to drive. IYMP removed such barriers in achieving this goal by funding driving lessons with a qualified instructor."
We are all very proud of Nia's hard work and achievements and we are immensely proud to Nia on our team here at IYMP. Nia has become a great role model for our IYMP site here in Brisbane and the whole IYMP family would like to wish her all the best in her future endeavours!