Liamon Mudd selected as finalist for 2020 Queensland Training Awards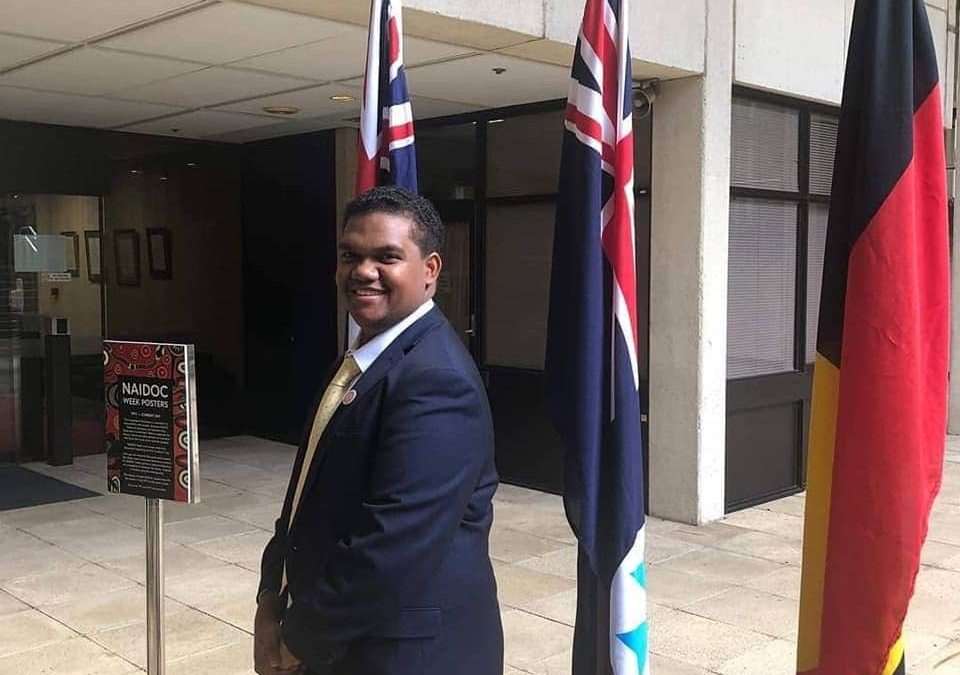 Meet our deadly IYMP Cairns participant Liamon Mudd who has completed his Cert III in Sports and Recreation, and has now been selected as a finalist for the 2020 Queensland Training Awards in Cairns as both the Vocational Student of the Year and the Aboriginal and Torres Strait Islander Student of the Year.
"𝘔𝘺 𝘯𝘢𝘮𝘦 𝘪𝘴 𝘓𝘪𝘢𝘮𝘰𝘯 𝘔𝘶𝘥𝘥 𝘢𝘯𝘥 𝘐 𝘢𝘮 20 𝘺𝘦𝘢𝘳𝘴 𝘰𝘭𝘥. 𝘐 𝘢𝘮 𝘧𝘳𝘰𝘮 𝘕𝘰𝘳𝘮𝘢𝘯𝘵𝘰𝘯/𝘊𝘳𝘰𝘺𝘥𝘰𝘯 𝘢𝘯𝘥 𝘒𝘰𝘸𝘢𝘯𝘺𝘢𝘮𝘢 𝘪𝘯 𝘧𝘢𝘳 𝘕𝘰𝘳𝘵𝘩 𝘘𝘶𝘦𝘦𝘯𝘴𝘭𝘢𝘯𝘥. 𝘐𝘯 2019 𝘐 𝘸𝘢𝘴 𝘴𝘶𝘤𝘤𝘦𝘴𝘴𝘧𝘶𝘭 𝘪𝘯 𝘴𝘵𝘢𝘳𝘵𝘪𝘯𝘨 𝘮𝘺 𝘊𝘦𝘳𝘵𝘪𝘧𝘪𝘤𝘢𝘵𝘦 3 𝘪𝘯 𝘚𝘱𝘰𝘳𝘵𝘴 𝘢𝘯𝘥 𝘙𝘦𝘤𝘳𝘦𝘢𝘵𝘪𝘰𝘯 𝘢𝘵 𝘛𝘢𝘧𝘦 𝘪𝘯 𝘊𝘢𝘪𝘳𝘯𝘴. 𝘛𝘩𝘳𝘰𝘶𝘨𝘩𝘰𝘶𝘵 𝘵𝘩𝘦 𝘥𝘶𝘳𝘢𝘵𝘪𝘰𝘯 𝘰𝘧 𝘮𝘺 𝘤𝘰𝘶𝘳𝘴𝘦, 𝘐 𝘩𝘢𝘷𝘦 𝘮𝘦𝘵 𝘸𝘰𝘯𝘥𝘦𝘳𝘧𝘶𝘭 𝘱𝘦𝘰𝘱𝘭𝘦 𝘢𝘯𝘥 𝘩𝘢𝘥 𝘵𝘩𝘦 𝘱𝘭𝘦𝘢𝘴𝘶𝘳𝘦 𝘵𝘰 𝘵𝘳𝘢𝘷𝘦𝘭 𝘶𝘱 𝘵𝘰 𝘛𝘩𝘶𝘳𝘴𝘥𝘢𝘺 𝘐𝘴𝘭𝘢𝘯𝘥 𝘵𝘰 𝘥𝘰 𝘴𝘰𝘮𝘦 𝘰𝘧 𝘮𝘺 𝘶𝘯𝘪𝘵𝘴. 𝘈𝘧𝘵𝘦𝘳 5 𝘣𝘭𝘰𝘤𝘬𝘴 𝘰𝘧 𝘥𝘰𝘪𝘯𝘨 𝘮𝘺 𝘊𝘦𝘳𝘵 3 𝘪𝘯 𝘚𝘱𝘰𝘳𝘵𝘴 𝘢𝘯𝘥 𝘙𝘦𝘤𝘳𝘦𝘢𝘵𝘪𝘰𝘯 𝘐 𝘴𝘶𝘤𝘤𝘦𝘴𝘴𝘧𝘶𝘭𝘭𝘺 𝘤𝘰𝘮𝘱𝘭𝘦𝘵𝘦𝘥 𝘪𝘵 𝘪𝘯 𝘍𝘦𝘣𝘳𝘶𝘢𝘳𝘺 2020. 𝘉𝘦𝘤𝘢𝘶𝘴𝘦 𝘰𝘧 𝘮𝘺 𝘩𝘢𝘳𝘥 𝘸𝘰𝘳𝘬 𝘢𝘯𝘥 𝘥𝘦𝘵𝘦𝘳𝘮𝘪𝘯𝘢𝘵𝘪𝘰𝘯 𝘵𝘰 𝘤𝘰𝘮𝘱𝘭𝘦𝘵𝘦 𝘮𝘺 𝘤𝘰𝘶𝘳𝘴𝘦, 𝘮𝘺 𝘛𝘢𝘧𝘦 𝘛𝘦𝘢𝘤𝘩𝘦𝘳 𝘯𝘰𝘮𝘪𝘯𝘢𝘵𝘦𝘥 𝘮𝘦 𝘧𝘰𝘳 𝘵𝘩𝘦 2020 𝘘𝘶𝘦𝘦𝘯𝘴𝘭𝘢𝘯𝘥 𝘛𝘳𝘢𝘪𝘯𝘪𝘯𝘨 𝘈𝘸𝘢𝘳𝘥𝘴 𝘪𝘯 𝘊𝘢𝘪𝘳𝘯𝘴…𝘖𝘯 𝘵𝘩𝘦 28𝘵𝘩 𝘰𝘧 𝘑𝘶𝘭𝘺 2020 𝘐 𝘳𝘦𝘤𝘦𝘪𝘷𝘦𝘥 𝘢 𝘤𝘢𝘭𝘭 𝘧𝘳𝘰𝘮 𝘵𝘩𝘦 𝘊𝘰𝘰𝘳𝘥𝘪𝘯𝘢𝘵𝘰𝘳 𝘰𝘧 𝘵𝘩𝘦 𝘈𝘸𝘢𝘳𝘥 𝘤𝘰𝘯𝘨𝘳𝘢𝘵𝘶𝘭𝘢𝘵𝘪𝘯𝘨 𝘮𝘦 𝘰𝘯 𝘣𝘦𝘪𝘯𝘨 𝘴𝘦𝘭𝘦𝘤𝘵𝘦𝘥 𝘢𝘴 𝘵𝘩𝘦 𝘧𝘪𝘯𝘢𝘭𝘪𝘴𝘵 𝘧𝘰𝘳 𝘣𝘰𝘵𝘩 𝘰𝘧 𝘵𝘩𝘦 𝘤𝘢𝘵𝘦𝘨𝘰𝘳𝘪𝘦𝘴. 𝘐 𝘸𝘢𝘴 𝘴𝘰 𝘦𝘹𝘤𝘪𝘵𝘦𝘥 𝘢𝘯𝘥 𝘩𝘢𝘱𝘱𝘺 𝘵𝘰 𝘩𝘢𝘷𝘦 𝘣𝘦𝘦𝘯 𝘴𝘦𝘭𝘦𝘤𝘵𝘦𝘥 𝘪𝘯 𝘵𝘩𝘦 𝘧𝘪𝘯𝘢𝘭𝘪𝘴𝘵"
Congratulations Liamon! You have all of the IYMP mob behind you!