IYMP Brisbane take part in the #RunSweatInspire Festival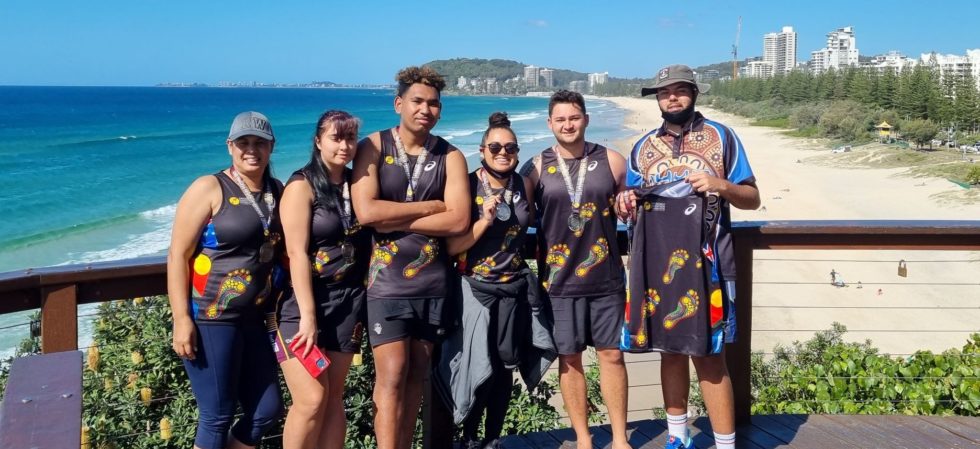 Last weekend six of our IYMP Brisbane Participants and staff travelled to the Gold Coast to participate in the #RunSweatInspire Festival, an annual virtual running and walking event in celebration of NAIDOC Week. The participants and staff have dedicated to making heathier choices throughout the year exercising to improve their physical and mental health.
Our IYMP Brisbane team for the fun run consisted of Huia Gillies (IYMP Brisbane Coordinator), Bella Rolston, Stanley Nona, Hisanori Doi, Lachlan Bon (Project Officer) and Nia Seden (Project Officer). There were other participants that were unable to attend due to work commitments but also trained and dedicated to make healthier choices for themselves.
The staff in Brisbane decided to compete in the #RunSweatInspire Festival as the Indigenous Marathon Foundation (IMF) Marathon team for 2021 has a very special member Waynead Wolmby. Waynead is an IYMP Alumni who has become an incredible leader in his community and continues to inspire other youth to make healthier choices. We were inspired by his dedication and wanted to support Waynead and the IMF Team by taking part in the virtual fun run.
The whole IYMP family are extremely proud of all those involved in the fun run, and we are proud to say that the proceeds from the registration fee and the merchandise that was purchased for the event goes towards the Indigenous Marathon Foundation team. We would like to wish Waynead and the IMF team all the best in their training for the Marathon.
You can also read this story on our Facebook and LinkedIn pages!
You can also read Waynead's story here: https://www.facebook.com/TheMarathonProject/posts/4296507303747860
You can visit the Indigenous Marathon Foundation website to find out how you can get involved: https://www.imf.org.au/get-involved/