IYMP Brisbane Participants claim Bronze in the Indigenous Nationals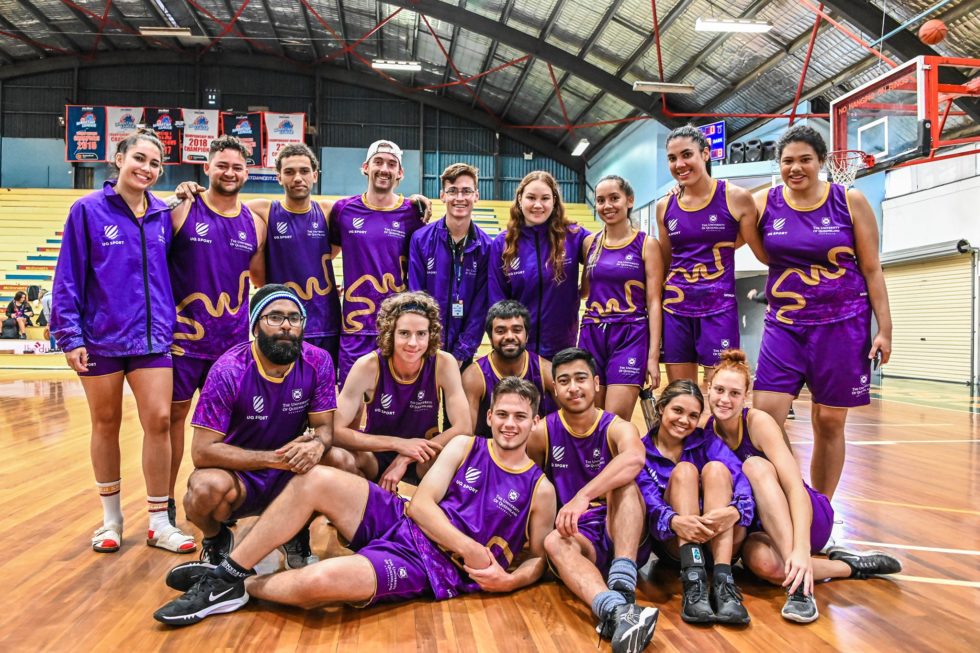 Aboriginal and Torres Strait Islander student-athletes travelled from across Australia to partake in the 2021 Indigenous Nationals. Two of our deadly IYMP Brisbane participants Lachlan Bon and Chicarnee Pickering (both far-left) represented The University of Queensland in this event claiming third overall in the competition.
Hosted by the event founders, The University of Newcastle and the Wollotuka Institute, over 300 university students representing 17 universities challenged each other in basketball, volleyball, netball and touch football across four days of competition.
The UQ Goorie Goannas kicked off the Indigenous Nationals comp with an incredible team effort, winning 4 out of 5 games, making it to the Semi Finals. Unfortunately, the Australian Catholic University (ACU) team were too strong for the UQ Goorie Goannas knocking them out in the semi-finals and claiming first place in the Grand Final.
On the second day, the Southern Cross University claimed the 2021 touch football pennant in the Grand Final against the UQ Goorie Goannas who claimed second overall. This was a super tough match for both sides with a final score of 4-2. The UQ Goorie Goannas efforts were rewarded, however, as our IYMP Brisbane participant Lachlan Bon received the Touch Football MVP award!
On the third day, the UQ Goorie Goannas won 6 straight sets across 3 games in the volleyball comp, qualifying for the Semi Finals. On the edge of our seats, our Goorie's fought to the end, losing 15-13 in the final set against Curtin University.
On the final day, UQ came third in their pool challenging a strong ACU team in the basketball competition. However, ACU prevailed and went on to win their second gold medal for the event.
IYMP was proud to help sponsor such an incredible group of young First Nations people, and the whole IYMP family would like to congratulate the UQ Goorie Goannas on an incredible achievement placing third overall. We would also like to especially congratulate our deadly IYMP Brisbane participants Lachlan Bon and Chicarnee Pickering on their individual efforts!